Teflon lined butterfly valve is high performance valves, has thick body, high strength, backrest support unit, uneasy deformation, erosion resistance, longer life, applicable for water, oil, and various liquid.
Main Features:
1. Tight sealing and zero leakage under rated pressure (1.0Mpa, 1.6Mpa).
2. Multi-sealing design separates valve body from working medium to ensure zero leakage.
3. Main parts are designed to fit exactly into each other to ensure a better sealing, smaller torque, bigger flow, lower fluid resistance as well as flexible two-side flow.
4. Scientific design for the sealing surface of valve seat makes a closed connection between the valve and the pipe flange without any additional accessories.
5. Designed and produced based on multi-standard system, so the valve could be applied to various of flange and enjoy excellent interchangeability.
6. All parts are embalmed, suitable for various complex work environment.
7. Can be customized according to customer requirements.
Design Featers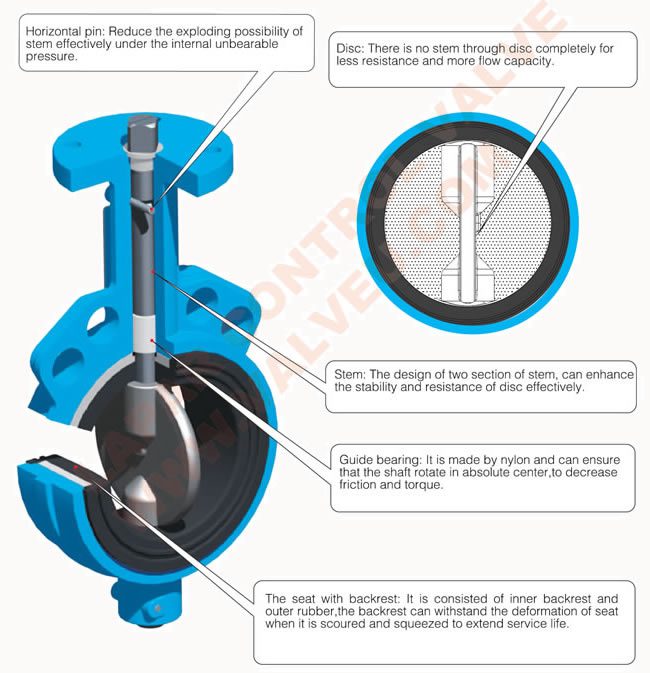 Parameter
DN40~600
ISO7005-1992 PN1.0~PN1.6Mpa, ASME/ANSI B16.5-1996, CL125, CL150, JIS B2211~2213-1996 5K, 10K, 16K, GB/T9113-2000 PN1.0~PN1.6Mpa
Wafer, Lug Type
Pneumatic Cylinder, Electric actautor, Manual Actuator
Juice, Starch, Syrup, Water, Oil, Gas
Valve body is designed to meet MSS SP-67 and API609.

Valve mounting flange and stem shall be per ISO5211.
ISO7005, ASME/ANSI B16.5, JISB2211~2213 & GB/T 9113 latest version.
Bi-directional bubble-tight shut off to:

16 bar (230PSI) – DN40~DN600mm

And tested to 110% of full rating:

18 bar (260PSI) – DN40~DN600mm
The body strength can stand 150% of full rating.
24 bar (340PSI) – DN40~DN600mm
Electric Actuated PTFE Lined butterfly valve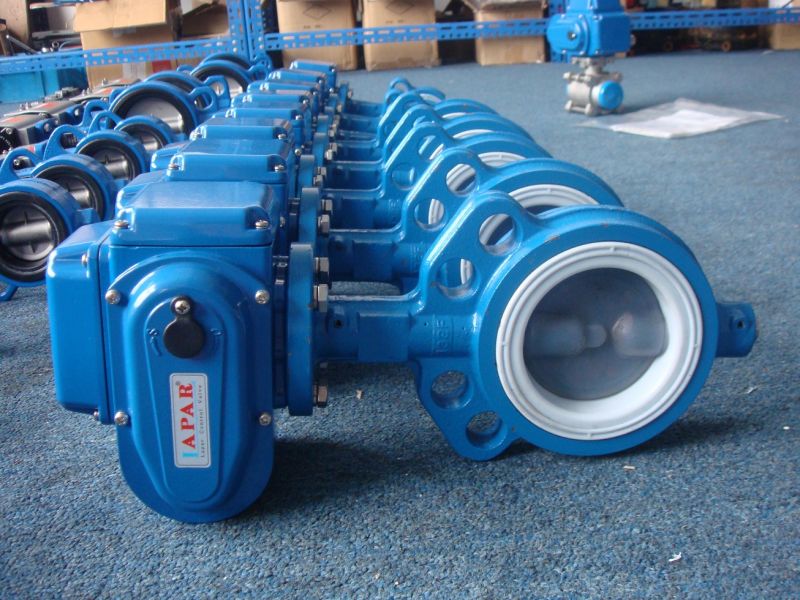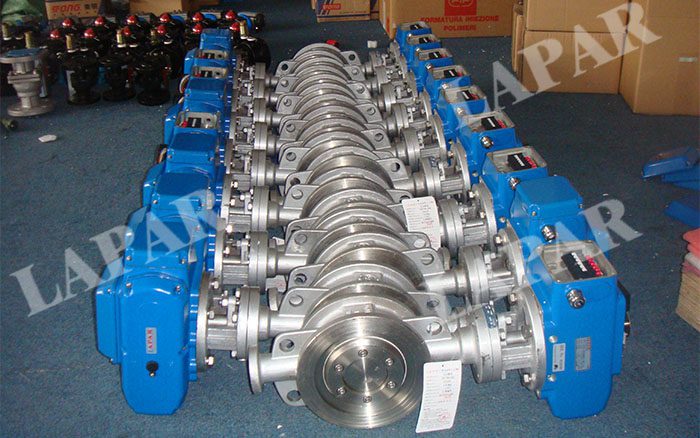 Pneumatic PTFE Lined butterfly valve