Three eccentric metal seat butterfly valve adopts three eccentric structure which decreases friction efficiently between seat and disc during opening and closing process, the body and seat are continuum parts, the seat and disc can be overlaid with heat-resisting and wear-resistant materials, which can be used in high-temperature and high-pressure medium.
Main Features:
1. Medium can flow through the body directly for little resistance and high flow capacity.
2. The body and upper cover could be made of carbon steel, austenitic  stainless steel or special alloy material.
3. The sulfur-free flexible V graphite is heat resisting, we shall ensure the service life of packing is long-term without maintenance by increasing pre-pressure on spring gasket.
4. The self-sealing packing structure is tested 100,000 times with full travel to ensure zero leakage and constant friction, when the stem moves at low friction state, we can get the long-term steady precision of control valve.
5. The seat adopts multi-level structure, the sealing surface is composed of metal and special non-metal materials to ensure zero leakage.
6. The shaft center deviates from the valve center bidirectionally, the asymmetric design sealing surface allows the disc to revolve in 0~90 degree freely.
7. Can be customized according to customer requirements.
Design Featers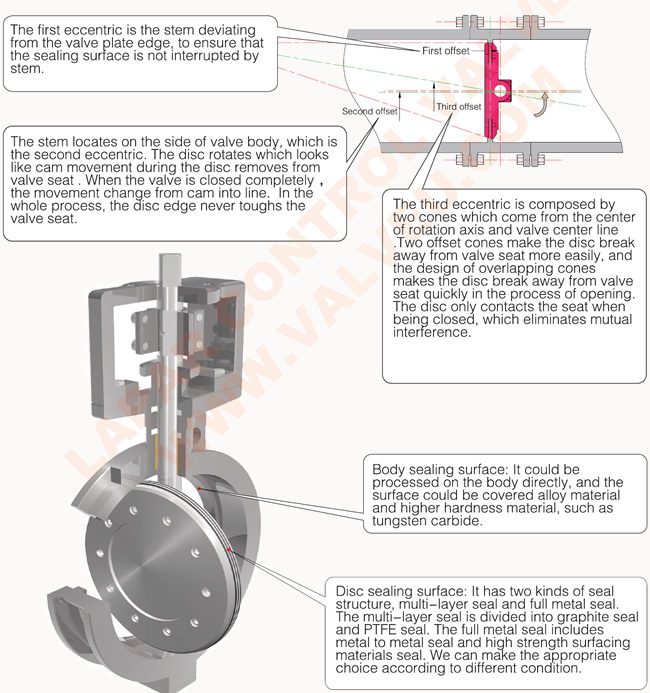 Parameter
DN40~1200
ISO7005-1992 PN1.0~PN1.6Mpa, ASME/ANSI B16.5-1996, CL125, CL150, JIS B2211~2213-1996 5K, 10K, 16K, GB/T9113-2000 PN1.0~PN1.6Mpa
Wafer, Lug Type
Pneumatic Cylinder, Electric actautor, Manual Actuator
Juice, Starch, Syrup, Water, Oil, Gas
Valve body is designed to meet IEC 60534-3-1-2001, API609 and GB/T-1221-2005.
Valve mounting flange and stem shall be per ISO5211.
ISO7005, ASME/ANSI B16.5, JISB2211~2213 & GB/T 9113 latest version.
The highest pressure: Class 600 or 6.3 Mpa
Temperature range: -196~538℃
The shell strength is designed to meet ASME B16.34, ISO 5752 and GB/T 9092-1999.
ANSI B16.104
Electric actuated metal sealing butterfly valve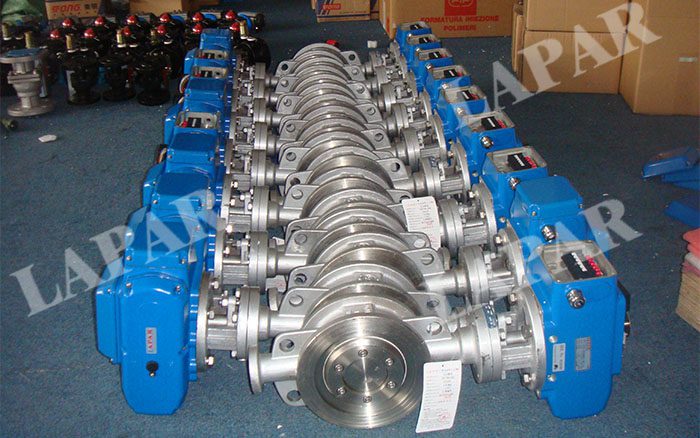 Pneumatic actuated metal seat butterfly valve