Segment ball valve designed for throttling or on/off application in various applications including juice, starch, syrup, water and oil.
Segment ball valve is one type of ball valves, its closure is a half ball with V type port which has sharp edges. during operation the valve, friction action will be occurred between its closures that producing a strong shearing force to the medium, and a fan-shaped area will be formed between V type port of the ball and the port of seat ring, so the section are of flow port can be changed, and the medium can be precisely regulated. it is a kind of regulating valve with angel rotation, having same sealing performance as common ball valves, so it simultaneously has both functions of regulating and on-off . Incorporating with pneumatic or electric actuators, it can be widely used in the automatic control systems in different industries.
Segment ball valve features a characterized ball segment for high rangeability with splined stem connection for precise control, maintenance friendly segment-stem assembly, low friction shaft and thrust bearings for longer life, integral actuator mounting pads, and interchangeable seats.
MAIN FEATURES
1. Lost-wax precision casting.
2. Fire safe design approved.
3. Built-in ISO 5211 direct mounting pad for easy automation.
4. Anti-static devices for ball-stem-body.
5. Blow-out proof stem.
6. pressure balance hold in ball slot.
7. TA-LUFT design approved
Product Features
INTEGRATED VALVE BODY
One-piece body design which offers greater rigidity against fluctuating pipe loads.
Side entry structure which has strong rigidity, making it hard to be deformation and leakage.
Available in wafer and flange ends.
SEGMENT BALL
Characterized V port segment ball offers range-ability in 250:1, ideal for throttling applications in high consistency
Syrup services. The segment is carefully designed for optimum flow, hard coated spherical surface prevents galling.
SELF-LUBRICATED BEARING
The segment ball is fastened by adopting double bearings on upper and lower valve stems with good stability, so the contact surface with stem is bigger which have a high carrying capacity and low friction coefficient, that operating torque of valve is reduced.
METAL AND SOFT SEALING SEAT
Seat rings can be metal seats or PTFE soft seats depending on different working medium, sealing face of metal seats will be overlaid with hard alloy, while ball surface is hardened with hard chromium plated or spraying overlay, plasma nitriding and etc, so as to increase working life of sealing faces and improve temperature resistance. PTFE or RPTFE seats have excellent sealing performance, high corrosion resistance and wide applications.
ECONOMICAL PRACTICALITY
Light body weight, small stem torque, so it can be installed with smaller pneumatic or electric actuators, high cost-effective compared to same size or class of other kinds of regulating valves.
SMALL FLOW CONTROL
According to customer requirements on flow, different small CV valves can be provided to the segment ball valve with nominal diameter of 25mm, the micro flow can be accurately controlled, it is especially applicable for the control for micro flow.
Parameter
DN25~500
DIN PN16, PN25, PN40, ASME CL150, CL300, JIS10K, 20K
Flange for all sizes, Wafer for DN25~DN250
Integral, 2 pieces available
Pneumatic Cylinder, Electric actautor, Manual Actuator
Juice, Starch, Syrup, Water, Oil, Gas
DESIGN STANDARD
EN1092-1:2001, ASME B16.5, GB/T 9113.1-2010, JB/T 79.1-1994, HG 20592-2009
ISO7005-1, ASME 16.34-2003, GB/T 12224-2007
Wafter type – Manufacturer standard, Flange type – ISA S75.04-1995, IEC/DIN 534-3-2
Normal, Middle and High
Pressure test standard:
Shell test pressure shall be 1.5 times of PN, the pressure rating determined for material at 38℃ listed in ASTM B16.34, stem packing and seat test pressure shall be 1.1 times the pressure rating determined for material at 38℃ listed in ASTM B16.34, seat test shall be done under maximum differential pressure, when maximum differential pressure is not specified, then it will be tested under pressure at 1.0 Mpa (hydrostatic pressure), when defined maximum differential pressure is less than 0.6 Mpa then it will be tested under pressure at 0.6 Mpa. Test fluid shall be fresh water containing a corrosion inhibitor.
Class IV will be used if customer doesn't have any special requirements on seat leakage rate, if the customer has special requirement, the leakage rate will be in accordance with spec class V for metal seat and class VI for soft seat.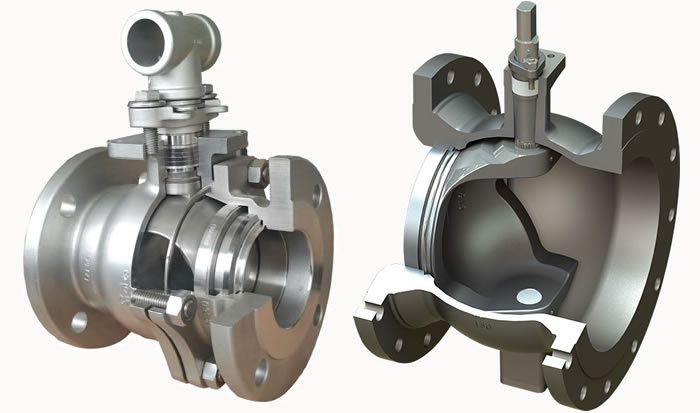 FLOW CHARACTERISTICS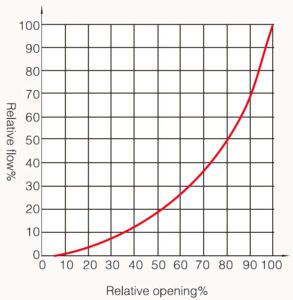 The intrinsic flow characteristic of V port regulating segment ball valve approximates equal percent.
STRUCTURAL SKETCH OF DIFFERENT SEAT
Structural sketch for different metal seat and soft seat.


Pneumatic Actuated Segment Ball Valve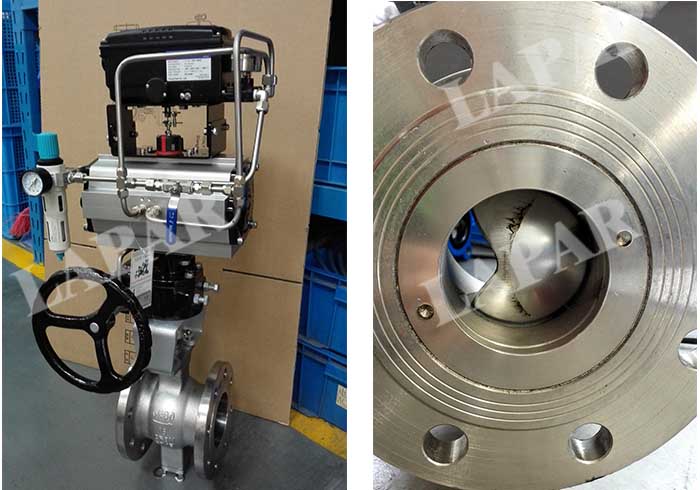 Pneumatic Actuated Segment Ball Valve