Lapar rack and pinion aluminium housing actuators with torque figures up to 6,500 Nm and scotch yoke actuators for heavy duty service up to 250,000 Nm. Our products offer reliable and dependable service for ¼ turn valves.
We provide single acting (spring return type) and double acting actuator for your automation demands.
Engineered and built to withstand most of the applications and environmental conditions, the precision in design and quality provides a long and safe operational performance in valve control.
Design Featers
The aluminium body is inside and outside coated with hard anodizing, with extremely abrasion resistance, low surface roughness and optimal resistance.
Carbon steel shaft electroless nickel plated against external and internal corrosion. Anti-blowout design.
External stroke adjustment for 5 degrees regulation, placed on the opposite side of Namur connection for better manipulation when the solenoid valve is assembled.
Pistons are coated with special treatment for corrosion resistance. Backslash is avoided by a special tooth machining. The pistons have a 3 way guide for low friction between body and pistons. The pistons ara also provided with an integral guide machined between pistons and pinion.
Multi-function indicator suitable for mechanical or inductive switches is a standard feature. Many different combinations without the need to buy external indicators.
Pre-stressed springs offers more torque and different options for their positioning. This system allows us to easily fit the necessary torque to close or open the valve, offering a total safety replacement and manipulation.
Different end caps for double or single acting for fast and safety identification without the need to read the label. End caps are epoxy coated as standard protecting them against environment corrosion.
Every single actuator is tested and provided with a unique serial number for traceability. This heat number is stamped on the body.
The assembly of switch boxes, proximity switches or positioners, takes place by means of the Namur connection VDI/VDE 3845, which is a standard feature in all our models. The height of the axis to fulfil this Norm is of 30 mm, for all our products, with which it entails that with a single model of Box or positioner, we can cover all our manufacturing range.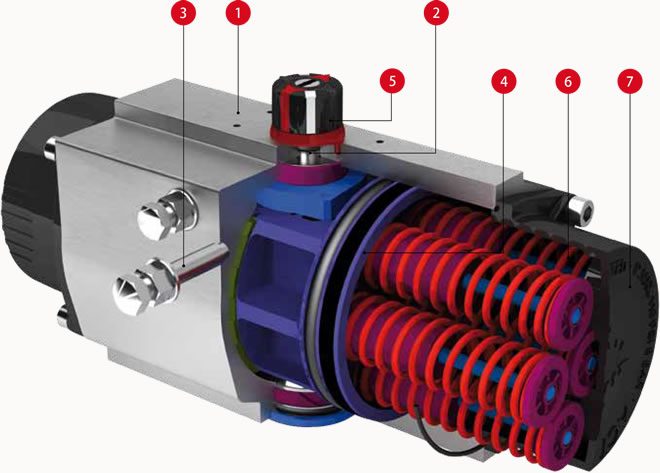 Parameter
Double acting and spring return type actuators
Rack and pinion design
Linear torque
Rotation angle 90º ± 5º
Anti-friction sliding bearings
Long life without maintenance
Total safety for springs replacement
Mounting of solenoid valves accessories NAMUR Standard.
Mounting of devices accessories NAMUR VDI/VDE 3845 Standard.
Coupling according to ISO 5211 and DIN 3337 (Octagonal drive)
Multi-function position indicator suitable for mechanical and inductive direct switches.
Working temperature:
-30 ºC to 100 ºC in Standard Construction.
-15 ºC to 150 ºC with FKM O-rings (high temperature execution).
-40 ºC to 80 ºC with Silicone O-rings (low temperature execution).
-55º C to 80º C with Silicone O-rings and 316 pinion (extreme low temperature).
Maximum working pressure:
8 bar (116 psig). (Except ADA10 at 10 bar)