LS series normal limit switch box provides a compact design and the most economical solution for both visual and remote electrical indication of rotary valve/actuator position. Integral NAMUR mounting legs provide additional cost saving by eliminating the need for a separate mounting bracket. The switch options available make the LS series suitable for use in IP65 weather proof applications and also intrinsically safe applications.
LS10 Electronic SPDT silver-plated contact body
LS11 Electronic SPDT gold-plated contact body
LS12 Proximity PNP NO P + F V3 E2 NBB2
LS13 NO / NC proximity programmable instruct flowmeter IS5026
LS14 Proximity NO P + F NBB3 V3 Z4
MAIN FEATURES
Light weight, small volume
Strong corrosion resistance
Small and beautiful exterior
Local 3D position indicator
| | |
| --- | --- |
| Model | LS |
| Body | VO reinforced Polyphonic Ether |
| Cover | UV resistant and VO polycarbonate |
| Shaft | Reinforced Techno Polymer |
| Fasteners | Stainless Steel |
| Ambient Temp | -20~80℃ |
| Enclosure | IP65 |
| Cable entries | G1/2 / M20*1.5 |
| Mounting bracket | NAMUR VDI/VDE3845 |
| Sensors | 2-SPDT Mechanical Switch |
Explosion-proof Limit Switch Box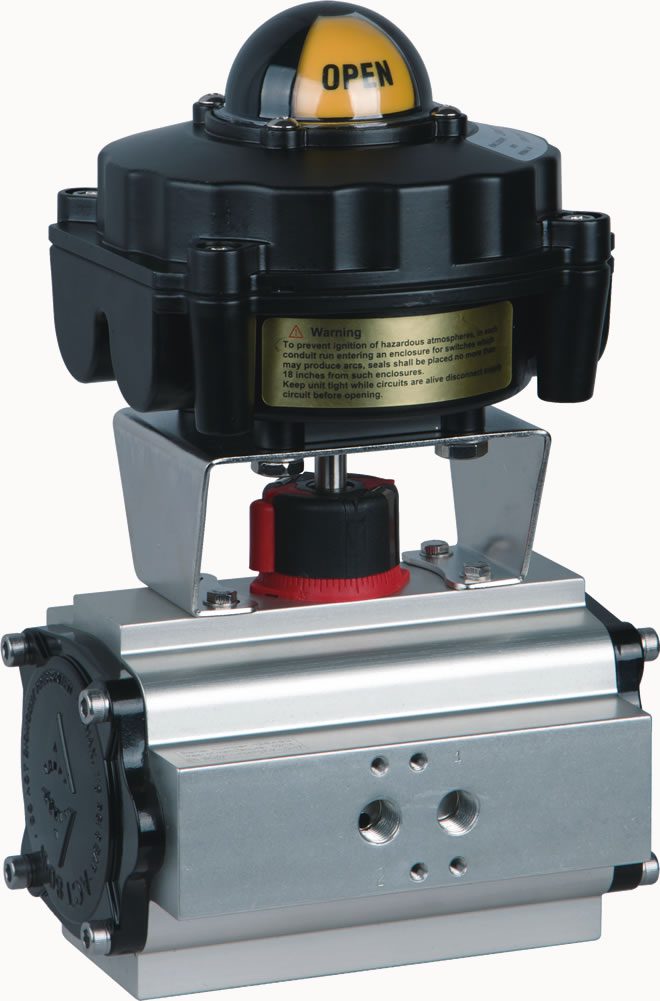 Explosion-proof limit switch series are designed suitable for valve and actuators in hazardous area application, having compact but robust construction conforms to EN 50014 and 50018, also suitable in Zone 1 and 2 and ingress protection IP67 Standard aluminum housing provides reliable explosion proof performance.
10 Electronic SPDT silver-plated contact body
11 Electronic SPDT gold-plated contact body
12 Proximity PNP NO P + F V3 E2 NBB2
13 NO / NC proximity programmable instruct flowmeter IS5026
14 Proximity NO P + F NBB3 V3 Z4
15 Position Transmitter
MAIN FEATURES
Light weight, small volume
Strong corrosion resistance
Small and beautiful exterior
Local domo position indicator
Specification
Standard
Option
Explosion Proof
Ex d IIC T6
Outside coating
Epoxy-Polyester outside against corrosion
Nylon /Special color Coating
Ambient Temp
-20~80℃
-40~100℃
Cable entries
2 – PF3/4″, other standard threads
NPT3/4″, PF3/4″, M25x1.5
Position indicator
Dome type 0~90°
3 way L, T type
Mounting bracket
NAMUR VDI/VDE3845
SS3, MT1
Sensors
Mechanical Switch
Proximity sensors (P&F,Autonics)
Magnetic sensors